The world is building state-of-the-art infrastructure at a breakneck speed and a booming construction industry across the globe brings some incredible construction projects into the spotlight. Each year, the world's largest construction projects are being pitched, built, and completed. So, what are the biggest construction projects of 2022 from around the globe?
We take you through the 10 largest construction projects that are starting, ongoing, or nearing completion in 2022. Megaprojects, architectural wonders, mind-blowing builds; whatever you want to call them, these construction projects continue to set the bar for the next headline-grabbing build. All these projects represent engineering accomplishments and architectural feats that continue to push the envelope.
Here are the top-10 biggest construction projects in 2022:
NOTE: Click each project name above to jump to that section or scroll/browse the list below.
#10: Merdeka 118
Estimated Cost: $1,700,000,000
(USD $1.7 Billion)
Location: Kuala Lumpur (Mayalsia)
Phase: Finishing Touches
After topping out, construction on this 679-meter-tall build became the world's second tallest skyscraper, earning it the tenth spot on our list of largest construction projects. The building symbolizes Malaysian independence both in the way it was designed architecturally and the name itself. Merdeka means "independence," which is culturally significant to the people of Malaysia as the country separated from British rule and became an independent nation in 1957.
Th architecture is built to resemble first Prime Minister Tunku Abdul Rahman's stature as he proclaimed the country's independence. In the picture below, take note of the posture of Prime Minister Rahman and the shape of the current Merdeka skyscraper. It's quite amazing what happens when inspiring architecture joins forces with state-of-the-art engineering.
Merdeka 118 trails only Dubai's Burj Kha
lifa in claiming the top spot for the world's tallest building, and naturally
,
the name implies the
staggering 118 floors included in Merdeka's towering stature. This build will be fully completed in 2022 and will be a sight that tourists and others travelling through Southeast Asia will want to see
for years to come
.
Don't worry, you won't miss it
– Merdeka 118 towers 30 floors over the famous
Petronas Twin Towers.
#9: Buffalo Bills Stadium (National Football League)
Estimated Cost: $2,100,000,000
(USD $2.1 Billion)
Location: Buffalo, New York (United States)
Phase: Planning & Preparation
The Buffalo Bills are one of the NFL's most-talented teams and a storied franchise. The table-breaking, tailgating fanbase is said to be one of the most passionate groups in all of football. So why does this team continue to play football in an outdated venue while less successful franchises are seeing new, innovative stadiums being built in other cities across America? That's the question many Bills fans ask themselves. But, as plans for a new stadium have been proposed, the excitement amongst the fanbase has begun.
It is yet to be decided where the build will take place, but it seems like the two most likely locations are:
Downtown Buffalo
Orchard Park
Orchard Park is home to the team's current stadium, so there's a bit of history with this location that might feel sentimental to some. The commute is only 20-minutes from the city center, but many fans are calling for a downtown stadium in hopes of creating a better entertainment experience for fans before, during, and after the games.
Above you will see the proposed drawings and renderings of the stadium. The build includes a retail district, restaurants, parking garages, an innovative stadium that will house the Bills, and various hotels. In the coming weeks and months, this build should have more information announced, but all signs point to the construction process starting in 2022. Erie County Executive Mark Poloncarz said "Hopefully we have something to announce soon" on March 1, 2022, and many media outlets have reported rumors of an announcement soon.  
If the project moves forward, its $2.1B budget will make it one of the biggest construction projects in the world. Stay tuned for more on one of the world's most exciting sports venues in 2022.  
#8: The Grand Ethiopian Renaissance Dam
Estimated Cost: $5,000,000,000
(USD $5 Billion) 
Location: Bameza (Ethiopia) 
Phase: Finishing Touches 
The Grand Ethiopian Renaissance Dam (aka. Millenium Dam or Hidase Dam) is a gravity dam utilizing the strength of the Blue Nile River in Ethiopia. The dam itself has been under construction since 2011 and many would argue the dam is already finished, sort of. 
In February of 2022, the Grand Ethiopian Renaissance Dam produced power for the first time – delivering electricity to the power grid at a rate of 375MW. But the Dam is not near full capacity as the reservoir housing the water is in a filling period that could take up to 7 years to fully fill. The reservoir started filling in late 2020 and once filled will produce much more electricity to the surrounding grid.
The reason we
do not
consider construction
c
ompleted on this
is that until the reservoir is filled
,
the damn itself will not
produce power at
full capacity
. There is a variety of maintenance
required
as the reservoir
fills,
and construction teams are on standby to service the area
as it takes on the load of
74 km3 of water volume.
Full capacity would take the facility from 375MW measured in February to 5.15 gigawatts once completely installed.
#7: Jansen Potash Project
Estimated Cost: $6,300,000,000
(USD $6.3 Billion) 
Location: Jansen, Saskatchewan (Canada)  
Phase: Planning & Preparation 
The Jansen Potash Project led by BHP is set to be the largest potash producing mine in the world. This mine will provide a rich source of potassium to the world's crops and soil which will result in improved food production globally. As the population of the world climbs, the demand on the agriculture sector globally to supply enough food continues to mount. This state-of-the-art facility located in Saskatchewan, Canada could be the interim answer to assisting our farmers with the task of feeding billions of people. 
Potash is a vital link in the global supply chain, and if you are not from a region where farming and agriculture is top-of-mind then you might not recognize the significance of this project. Potash increases the water retention in plants, allows crops to yield better results, and can even influence the overall nutritional value of the food we grow in the ground.  
The reason this project does not have the same "wow factor" as the previous projects listed is that a lot of the results will never be seen. Mines like this operate more than 1 Kilometer (0.62 Miles) beneath the earth's surface, and extraction of the materials below ground typically does not impress the average onlooker. The video below might give you a better idea of what underground potash mines looks like. 
Although it will not wow like the Merdeka 118 project, this is the largest investment in Saskatchewan's history, one of the largest construction projects in the world, and will no doubt improve the global food supply chain. 
#6: Laguardia International Airport
Estimated Cost: $8,000,000,000
(USD $8 Billion) 
Location: New York, New York (United States)  
Phase: Finishing Touches 
"A Whole New LGA" 
This is the phrase that coins the latest development at one of the world's largest international airports, Laguardia. Closing out at $8B in total cost, this massive overhaul has been one of the biggest construction projects in the world for several years. The goal of the campaign is really to forget the notions and conceptions that people have of the Laguardia airport, which (historically) has a bad reputation.  
 "The old airport, which was probably one of the most hated airports in the country will quickly transform into one of the best" – Rick Cotton, Executive Director of the Port Authority for NY/NJ  
A whole new Laguardia airport means $8 Billion dollars invested into a modern, airy, and vibrant travel experience when landing in New York's second-largest airport. Arrive in style with world-class amenities, iconic art, enhanced security, and quick access to additional taxiways to reduce the likelihood of flight delays. The project boasts 30% MWBE (minority/women-owned business enterprise) participation, which means it employs many minority staff both during the construction phase and as the airport operates. 
The newest terminal B is LEED Silver certified, so it is built to
be energy efficient while offering passerby traffic with the latest amenities. T
he completion of Terminal B is set to wrap up in Spring of 2022, completing a
7-year
process of
restoring the image
of
one of the world's busiest airports. Explore the video below to
discover
what
is going on
as the world gears up for a new travel experience in America's largest city. 
#5: Samsung Semiconductor Factory
Estimated Cost: $17,000,000,000
(USD $17 Billion) 
Location: Austin, Texas (United States)  
Phase: Planning & Preparation 
The entire globe relies on semiconductors in the modern world. Cars, computers, smartphones, televisions, and medical equipment all rely on semiconductors to function. What happens when we cannot produce all the goods we consume? Well, we run into a global supply shortage where demand far exceeds the amount of production that the globe can handle.
The Samsung Semiconductor Factory is set to start construction in late 2022 and is currently in the planning phase. The goal with this factory and other "Made in the USA" production facilities is to enable the United States to join the global supply efforts manufacturing semiconductors. 70% of the global manufacturing for semiconductors is currently being done in Taiwan and South Korea, yet the entire world relies on the technology. With American semiconducting manufacturing, North American based companies can rely on faster lead times and fewer disruptions in the supply chain.  
At a budget of $17B, this facility will be one of the largest construction projects in the world for years to come.
Look for more news and updates in relation to American semiconductor production in 2022,
you might
be surprised
how often this topic is talked about and
you will
quickly realize the importance of a massive project like Samsung's efforts in Austin, Texas.
#4: Intel Semiconductor Project – Two Factories
Estimated Cost: $20,000,000,000
(USD $20 Billion) 
Location: Chandler, Arizona (United States)  
Phase: Active Construction 
Wait a second, another semiconductor facility? If the previous section about the semiconductor plant in Texas was not enough foreshadowing, there is a desperate need for the world to keep up with semiconductor demand. America is well-positioned to become a global leader in production with state-of-the-art facilities popping up like weeds. 
The United States has broken ground and can expect two new semiconductor facilities close to Intel's Chandler, Arizona campus. The facility will take 2 years to build and will require around-the-clock work to ensure the deadlines proposed are met. Set to open in 2024, these facilities will bring 3,000 construction jobs, 3,000 intel employees, and create an additional 15,000 indirect jobs in the local communities surrounding Chandler.  
The project is expected to be 670,000 square feet once
completed and
will be three times larger than Intel's old facility in Arizona.
With Intel's existing campus and connection to Arizona, this project solidifies Intel as
one of the largest employers in the state; already taking top honors for largest employer in Chandler. 
#3: Plant Vogtle – Units 3 & 4
Estimated Cost: $30,000,000,000
(USD $30 Billion) 
Location: Waynesboro, Georgia (United States)  
Phase: Active Construction 
With the addition of units 3 and 4, Plant Vogtle
,
located in Waynesboro, Georgia will become the largest nuclear plant in the United States. Georgia's massive power plant is actively building two new units which are the first nuclear power units to be built in more than three decades in the United States. Vogtle 3 and Vogtle 4 are both
AP1000
nuclear power plant designs and will represent two of the six AP1000 builds worldwide. 
With more than 7,000 workers on site, and more than 800 permanent jobs available once the units begin operating, Vogtle 3 & 4 is currently the largest construction project (jobs-producing) in the state of Georgia. The project has also been a major economic development driver for the region during construction. 
Why is nuclear power important and why now? Well, with a growing population and an increase in technological development and usage, the world is consuming power at unprecedented rates. Nuclear power offers a zero-emission energy source, does not take a ton of space to build, and produces minimal waste, which aligns with many countries' shift to cleaner energy alternatives. Onlookers should anticipate that Plant Vogtle will not be the only nuclear power-related build on the horizon.  
Once
operating
, the two new units at Plant Vogtle will be able to power more than 500,000 homes and businesses
. Vogtle 3 and Vogtle 4 will each
generate a gross capacity of 1250M
w
e
, with the first reactor (Vogtle 3) finishing in the third quarter of 2022.
#2: Dubailand
Estimated Cost: $76, 000,000,000
(USD $76 Billion) 
Location: Dubai (United Arab Emirates)  
Phase: Active Construction 
Dubailand… is that like Disneyland? Yes, but MUCH bigger. Let us break down just how big Dubailand will be, once fully completed. 
51 Disneylands = 1 Disneyworld (43 square miles of land)

 

3 Disneyworlds = 1 Dubailand (129 square miles of land)

 
Dubailand is considered a "theme park," but really is the development of an entire entertainment city, like the experience offered at Disneyworld in Orlando, Florida but at a much greater scale. Dubai is notorious for "one-upping" western countries with innovative builds and construction. If the most exciting architecture and buildings are not already in Dubai, you can be sure it is on the radar. 
Plans for Dubailand consist of hotels, theme parks (Universal Studios Dubailand, Six Flags Dubailand, etc.), restaurants, zoos, gardens, and about anything you could think of that would attract tourists from across the globe.   
Here is the catch…
Dubailand has been in construction since 2003 and has a turbulent history of fundraising and construction efforts. This has resulted in a snail-like pace building the alternative-like universe. In 2013 $55 Billion in capital was raised to continue construction, but onlookers feel uncertain that the original plans will pan out.  
The good news, in the past 2-3 years the land carved out for Dubailand has launched major attractions like "Legoland Dubai" and the famous Dubai butterfly garden. Rumors have it that construction will continue in 2022 as the oil-rich country continues to thrive with oil prices hitting record highs.  
With this most recent cash injection and the total projected budget for Dubailand, it is certainly one of the largest construction projects the world has ever seen. So… what could be bigger? 
#1: California High Speed Rail
Estimated Cost: $98,000,000,000
(USD $98 Billion) 
Location: California (United States)  
Phase: Active Construction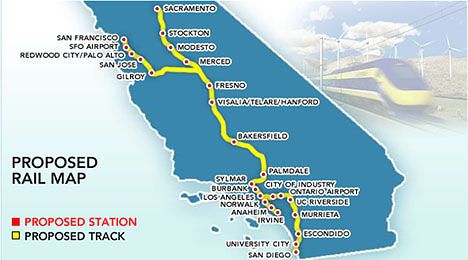 The California High Speed Rail (HSR) has been hotly contested and even protested by many Californians. The original proposal for the HSR was to connect major city centers from San Diego all the way north to areas like San Francisco. The idea behind a large transportation build in California has floated around for decades but in 2008 voters narrowly voted in favor of the rail and $10 Billion in funding was secured (
SF Chronicle, 2019
).
The California HSR is still in motion, and construction continues to move forward. However, the original blueprints for the rail are not going to come to life any time soon. Much of the project has been halted, and a project that was once projected to cost $33 Billion dollars is now prediction to cost just over $98 Billion. In addition, construction is expected to take 13 years longer than pitched in 2008 – now targeted for completion in 2033. 
It is safe to say that the 2033 deadline will not be met if portions of the rail continue to be stopped. For now, construction on the rail will continue between Merced and Bakersfield, California. 
Here's where things are at nearing the end of 2021 and plans are full steam ahead for 2022 – video below shows progress. 
The construction on this megaproject is already changing the landscape in the state of California and
Google satellite images of the area will continue to see construction workers in the state picking away at this massive undertaking in 2022.
Upon completion, this project will undoubtedly be one of the biggest construction projects ever completed and unlike any other transportation system in the world. But Californians beg to question "at what cost?" as the goalposts on the project budget continue to move further billions of dollars at a time.  
myComply & The Biggest Construction Projects in the World
myComply makes it easy to ensure that all individuals on a megaproject like the ones listed above are qualified and approved to be on-site.
With specific certification requirements and access control solutions implemented on your project site, you naturally unlock a wealth of data, and myComply makes it easy to access and leverage that data.
Access on-demand reports to showcase:
All worker certifications and project compliance data
Worker detail reports to showcase demographic data for banks, owners, and other stakeholders
Timesheet data to track worker movements and prevent labor inflation
Proof of vaccination (where applicable)
If you are interested in finding out more about myComply, then check out our Projects Pro solution for Owners, Construction Managers, and General Contractors, or book a demo with one of our product experts.